Why Amsterdam via Brussels Charleroi..? Right… I know it's not the best route to take if you are planing on going to Amsterdam, but it's not the worst thing to do too. Amsterdam is only 2-3 hours away by train from Brussels so if a flight fare to Amsterdam is quite (very) expensive maybe, there's a better flight deal to Brussels. You never know…
Note: If your destination is Amsterdam, fly with EasyJet from Edinburgh. Keep reading and you will know why.
I wasn't supposed to go to Amsterdam in the first place, as the agreed destination city was Liege in Belgium. One of my friends goes to uni there, and this lovely town in the south of Belgium was supposed to be a short weekend getaway from a rainy and cloudy Edinburgh.
However things change. And to be honest, I'm quite happy with this change. Not that Liege may have turned out to be a boring city – I just always have loved Amsterdam.
Before I even start going into details about my itinerary, I want to share with you one magic tip that will save you loads of $$$ or £££ or €€€. It's Sygic GPS Navigation for smartphones. If you like me and don't really like using paper maps or being lost – Sygic is a life saver.
You see, Mobile Service Providers are smart – they know that GPS can't be taxed, so they have thought of the workaround – they don't usually provide maps and make people use some kind of on-line service to download maps as one needs them. It's fine if you stay in the same country and have huge data allowance, however the GPS on your mobile becomes useless if you are in another country as roaming charges creeps in. And let's admit – people who use GPS are very likely to travel. Unless you can afford to pay £5 per 1MB of data, download Sygic. You download maps to your phone and use them as you need them. So there is no "scary data roaming charges".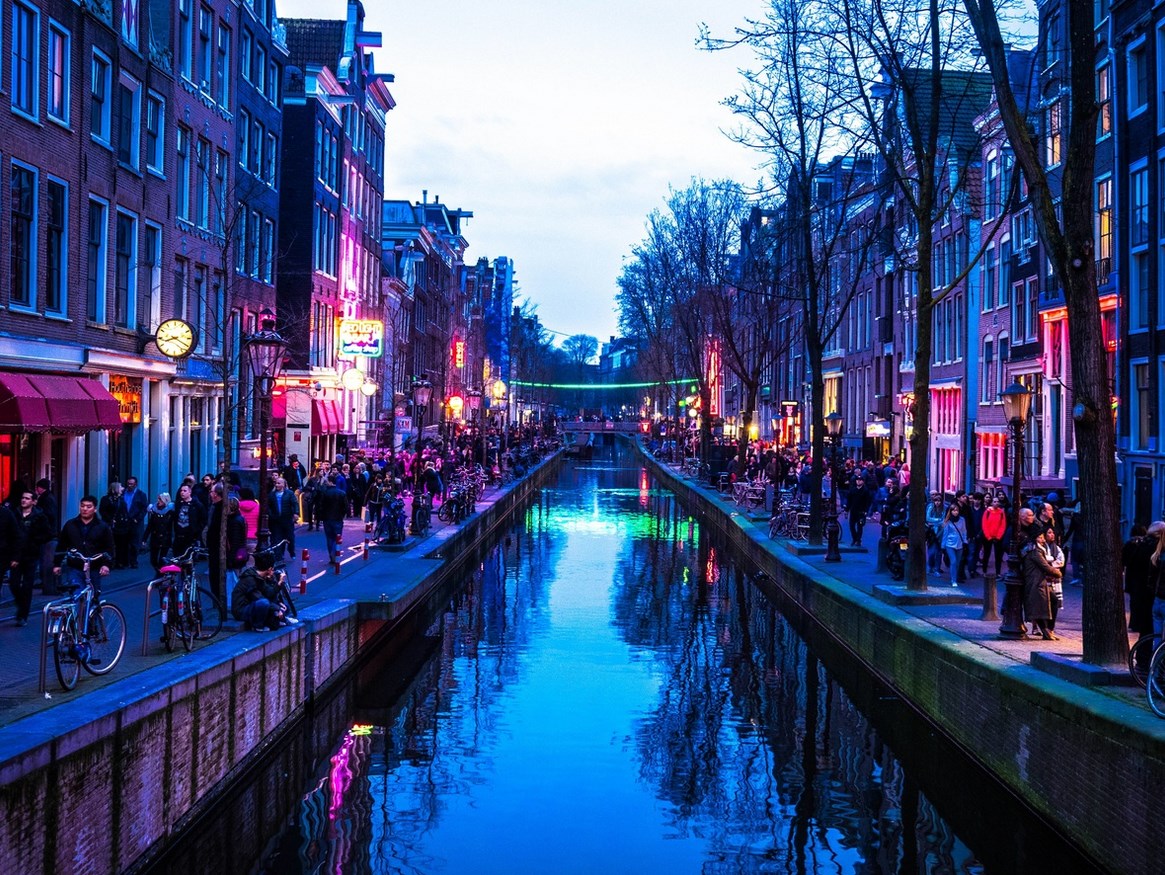 Itinerary and costs
First part is quite simple, it covers travelling costs to/from an airport and a flight ticket. Single bus ticket and Airlink service ticket.
1. Reaching Edinburgh Airport and flying to Charleroi
£9.8 (£1.4×2 + £3.5×2) Travelling to/from Edinburgh Airport
£73 Flight ticket Edinburgh – Brussels
Ryanair has tricked me again. I just realized that Charleroi Airport is 55km from Brussels. Last time that happened to me was when I bought a return ticket to Oslo for £21. And, surprise surprise, it wasn't Oslo at all, it was Torp, an airport 100km away from Oslo. Ha Ha HAAA. A return bus ticket to Oslo was priced at almost £40… 100km by bus was twice as expensive as the price of flying 1000km by plane.
This time is a little different. I'm going to Amsterdam, so my only worry is to find a quickest and cheapest way to get to the train station. I'm taking a full advantage of Benelux weekend ticket – which gives you 40% discount for a return ticket in Benelux countries. Sweet deal! Well, not really, but the price is not too bad. It's something to remember for later, because if you combined that with cheap Ryanair's flight to Brussels Charleroi, you could have quite a nice weekend escape. Luxembourgh is on my mind next.
2. Getting to Charleroi-Sud train station from Charleroi Airport
£3 (£1.4 x 2) for travelling to/from Charleroi Airport.
Take a bus A to the airport. This bus departs twice an hour and takes 15 minutes. You can purchase your bus ticket on the bus for a small sum: 1.6 euros (single). Here's a website:
3. Charleroi-Sud – Amsterdam Central Station
£46.54 return train ticket Charleroi-Sud station – Amsterdam Central Station
I'm not really sure what time I will arrive to the train station, so in case something goes wrong – flight delay or me getting lost in the airport, I haven't booked any train tickets yet. It seems that there's no price benefit if you book online and/or in advance, so I will buy a ticket at the train station. Anyways, here's a most likely journey scenario and only thing that concerns me is the travel time: 4 hours…
4. Accommodation in Amsterdam
£16 (20euros) – 1 night at a hostel
Saturdays seem to be the worst time in a week if you looking for a bed in Amsterdam. Even hostels charge 20 euros per night – and this is for a bed in a room with 8… On a Sunday night, same bed will cost you only 8 euros. One night I will stay at my friend's flat, and the other – in some hostel with the group of students I'm travelling to meet. Accommodation costs: approx. £16 (20euros) Totals. approx. £150 + food, drinks and everything else.
If you are planing on going to Amsterdam from Edinburgh – book EasyJet. It's approx. £70 if you book in advance for a weekend's flight.
Getting to Liege, Belgium would have been a bargain from Charleroi. There's 50% discount for train tickets during weekends and the return ticket price is only 14.50 euros. This is definitely something to remember for a future travels let's say to Brugge, Antwerp, Ghent or Brussels. If you know any better travel options to Amsterdam let me know in the comments